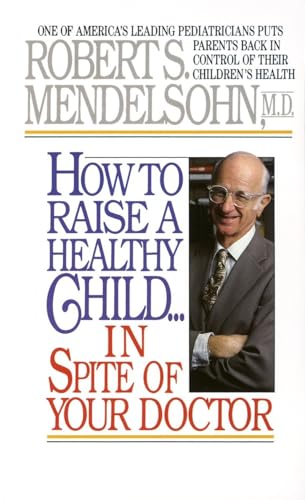 I love this podcast with Joette Calabrese. In it, she encourages mothers to read the above book, written by a pediatrician, Dr. Robert Mendelsohn, MD.
Here's a snippet of what she says from the podcast about raising her three sons to adulthood:
"I didn't need a pediatrician. Those ubiquitous well-baby checkups were something I never bought into. Excuse my skepticism but they're just a calendar-building technique for an otherwise not very busy medical specialty. Perhaps they fulfill a need in mothers who don't trust knowing whether or not their children are well."
She also quotes Gandhi as saying, "Homeopathy cures a larger percentage of cases than any other form of treatment and is beyond a doubt safer and more economical." 
In conclusion, I love that she encourages moms to get a PhD in mothering by studying the nurturing of children, which can certainly involve homeopathy.
"Well, I think we should be getting our PhD in mothering. I really believe it's important that we know what we're talking about. We should not say, 'Oh, I can just do this,' without doing some homework. Mothering should command our full attention. The act of mothering should be civilized and respected and resourceful. After all, we are raising a human being, our offspring, our worldly and spiritual legacy. So if you're not up to the task and you need a pediatrician or another person to tell you to put chemicals into your baby's mouth, then well, I guess, in a way we may even part ways and our conversation is over because that is my philosophy. I'm being a little blunt but I believe it needs saying."
I agree! If this resonates with you I encourage you to learn from her blog here and Dr. Mendelsohns' book above, which you can read for free here.