Happy New Year! What do you want to create in 2019? I listened to this talk by Tim Thomas, called "Living an Extraordinary Life Through the Gospel of Jesus Christ," over here,  through my BYUI Devotional podcast feed. It's from BYUI's Education Week.
You can watch the video here
or listen to it as a podcast here. It is totally amazing!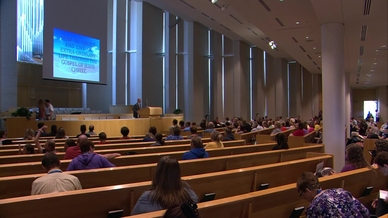 Photo Credit: video.byui.edu
I remember thinking how amazing the talk was when I first heard it a few months ago as I was driving. Then I watched it with my family this past week to celebrate the new year and motivate all of us to set some new goals. It was great to actually see the pictures he was referring to when I first only heard the talk. I couldn't figure out how to embed the video of his talk here, so I'm embedding videos here by another user of vision boards, Kirk Duncan, owner of 3keyelements.com.
Ok, back to Tim Thomas. In his presentation, Tim shares some amazing stories about his family achieving their goals by using vision boards. He says that every year on New Year's Eve, his family creates new vision boards. I love that idea and I've been working on creating that tradition in my family. I have my vision board up in my bathroom, the one I made two years ago. I have one thing on there we've accomplished the past two years. It feels great knowing that I've created something I look at every day while brushing my teeth!
I've fallen out of the habit of using my other vision board, the one in my bedroom, which I made three years ago, on a daily basis, so I want to get back to doing that. I'm thinking of transferring it all all to a Vision Book. One of my girlfriends got a blank sketch book. Every night before she goes to bed she looks at the pictures in that she has drawn or glued of what she wants to achieve. She told me a few stories of things that have already manifest in her life. It sounded so wonderful. A Vision Book sounds easier for me to use because I can look at it while cuddled in bed. When we keep a vision in our mind of what we want, we are much more likely to attract the people and resources who can help us fulfill our vision. We also feel joyful! I hope you watch Brother Thomas's talk at this link, then watch these videos here on this blog post by Kirk Duncan and get as excited about vision boards as I am.