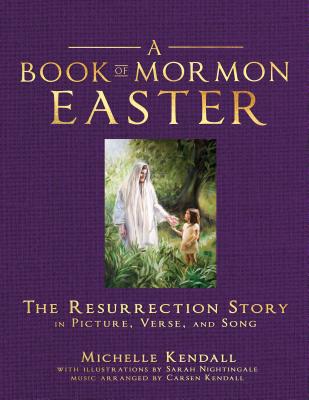 This book isn't new but I just discovered it. If you want to have a book that portrays the Book of Mormon Easter story, with sacred text, beautiful pictures and glorious songs, this is it!
This book starts with the Book of Mormon scripture, from 2 Nephi 25:26, "And we talk of Christ, we rejoice in Christ, we preach of Christ, we prophesy of Christ, and we write according to our prophecies, that our children may know to what source they may look for a remission of their sins."
Then it tells the Easter story from the Book of Mormon perspective, starting with the great earthquake and the darkness that happened when Christ was crucified. It then tells of his visit as a resurrected being at the temple in Bountiful, citing his healing and teachings. The teaching includes his instruction of the sacrament ritual.
All of this is interspersed with beautiful paintings and excerpts from hymns about the Savior's love. It also comes with a CD of beautiful Easter music. I highly recommend it! 5 out of 5 stars!