Forget Christmas as the most magical time… this my friends, this month of May is the most wonderful time of the year! Yes, May or "Maycember" can be sooo hectic with the cramming in of every recital, play, graduation, party and capstone event for the school year. But with that, you have classes and obligations ending, which hopefully creates a vacuum for more flexible summer family activities.
Some people might fill that vacuum up with lots of outdoor activities. I'm all for that! Go enjoy the great outdoors while the weather is so pleasant. Don't forget to add reading to the list of summer activities too! It might seem more conducive to indoors, but reading adds a layer of depth to all summer fun.
Some people don't need any direction as to what to read for leisure time. They are gleeful at a summer full of no required reading/reading for school. For those who do need a little guidance or inspiration as to what to read, and enticement away from the siren song of the screen, blogger Jennifer Flanders has a great summer reading guide/challenge as a printable over here. She goes through the ABCs and offers a suggested book idea for each letter. I'm printing one off for each of my kiddos and one for me too! I'm figuring out what reward to give when they finish.
Be sure to read her suggestions below the printable for each letter. I'm going to have lots of fun going through her lists to find books to put on hold on our public library's online catalog.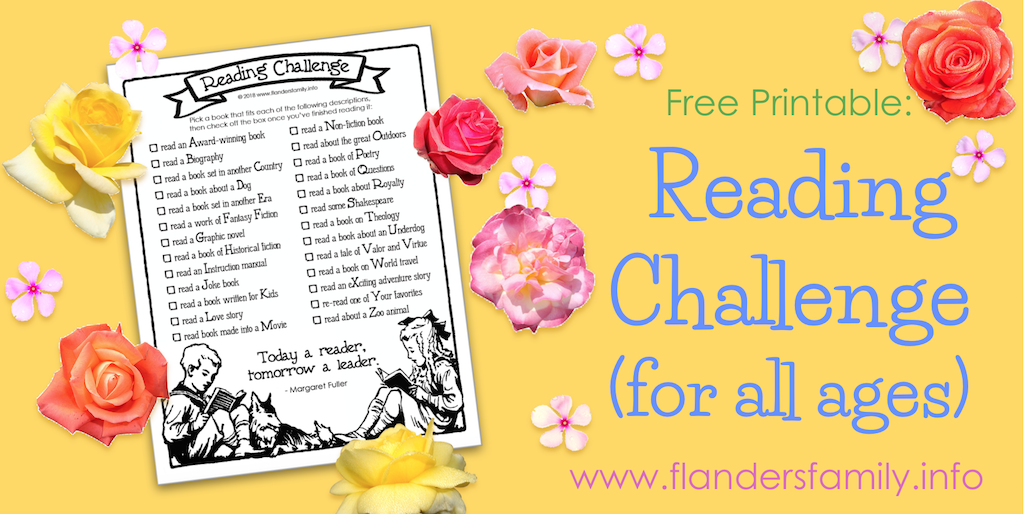 Want some more resources from Jennifer for encouraging reading in your family? Check these out:
a list of reading rewards here from various organizations or businesses
a printable copy of the poem to memorize, "I Opened a Book"
ways to encourage reading in your home, with lists of Jennifer's favorite picture books, chapter books, and series for children
even more ways to encourage literacy
how to find more time to read as a mom
Here are some of my suggestions for encouraging reading:
have a special place to read, like a fort made out of blankets, a shady place outside, or a comfy spot on the couch
have some special snacks or drinks that are easy to keep around, not too expensive, like popcorn or lemonade
have a reading buddy, a small stuffed animal, for small children, that only gets to come out when it's reading time
play a game related to the book
have busywork activities that only come out during the playing of audiobooks or reading aloud, things like puzzles, Usborne sticker and activity books, coloring, finger knitting, construction set building, and crafts
have nightlights to encourage reading in bed before nodding off to sleep
give books for birthday gifts to your children to encourage them to start building their own library of books they will take with them when grown
take them to used book sales and thrift stores to buy their own books
encourage siblings to read to each other, a few minutes each day, as part of their "Daily Dozen" jobs before free time
Happy reading!