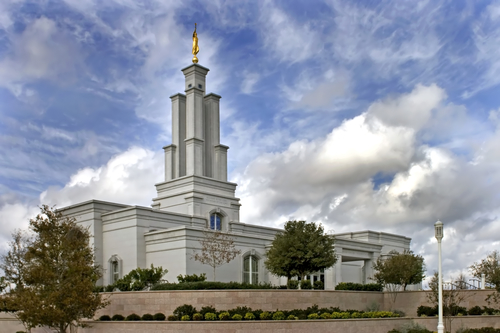 This week in the Come Follow Jesus scripture reading assignment, I am reading about the dedication of the Kirtland Temple. One of the discussion questions is "How does He (Jesus) manifest himself to you in the temple?"
Here's a beautiful story about how Jesus manifested Himself in the life of the Chad and Cheri Evans family. You can read the story here. Sister Evans, the author of the story, tells how they received many blessings from Jesus after following the words of a member of her stake presidency, "I promise you that if you attend the temple, every part of your life will be blessed." Sister Evans wondered how that promise could possibly be fulfilled but she acted in faith anyway, despite the challenges of going to the temple when she had three small children.
The Evans family was blessed with friendship of a man who was a quadriplegic, Brother Max Para. They met this man outside the temple after Brother and Sister Evans and Brother Para had been inside the temple. Everyone was now leaving to go home. That chance encounter blossomed into an enduring friendship. The Evans family served him, and his bright optimistic smile and attitude served them. They were blessed in many ways because they befriended him. Sister Evans said one of the chief blessings from this friendship was gratitude. Seeing Brother Para faithfully serve in the temple frequently took away all their excuses for not attending the temple frequently themselves.
Overall, Sister Evans said she was a transformed woman. She was blessed to become more of who Jesus wants her to become because of her increased temple attendance, mainly because she met Brother Para.
I love this story so much! Yes, Jesus often manifests himself in the temple in the form of a friend. I also love this story because it shows how a family with young children can attend the temple without getting a babysitter. Sister Evans and her husband came up with an ingenious method, what they call the "pizza and play" method. Instead of leaving their children with a babysitter, they traveled as a family to the temple. One parent would go inside, and then the other parent would take the kids out for pizza. (If you can't afford that you could just pack food you would eat anyway and then find a playground to go have a picnic.) Then the parents would switch places and the other would go into the temple to do the work while the other parent tended the children while walking around the temple grounds, talking about its beauty. What a great idea! I wish I had thought of this when I was a young mom.
If you want to learn more about the dedication of the temple, and the many amazing blessings involved in that dedication, I highly recommend the video below by my husband's cousin, Lynne Hilton Wilson. A few people saw Jesus, many saw angels, and some spoke in tongues.