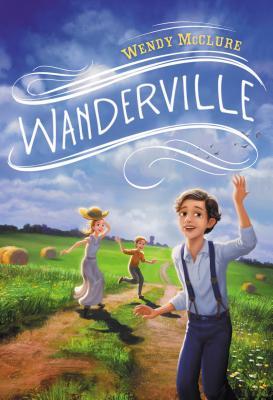 We found this book at the library and picked it up since the dust jacket stated it was for kids who like the Boxcar Children series. My 8 year old daughter does so she read it. Here's her review:
This is a story about Jack, Frances, and Harold. Jack worked a tuxedo factory. The tuxedo factory burned down so he was sent to an orphan train to go to Kansas. He and a girl named Frances and her brother Harold, who are orphans, met. A boy named Quinton started picking on Harold. Jack jumped on him. A few days later, he, Frances, and Harold decided to jump off the train. After a few days of wandering around they meet a boy named Alexander who takes them to Wanderville. Wanderville is a town for any children who escape cruelty. After they go "liberate" things (code word for stealing), Harold is caught by the sheriff. He is not caught for stealing but because he was supposed to be working at the Pritchards'. So after he is caught he has to harvest rocks. Alexander and Jack rescue him and that's the end of the story. I liked this book. 
Editor mom's note: The kids in this book steal and don't get punished so that's something you will want to talk about with your children, to make sure they understand that stealing is wrong, why it is wrong (even if you don't get caught) and that they should not do it.