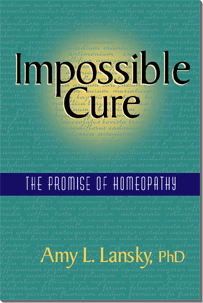 I found this book in Audible and am so happy I did! A friend of mine has been wondering if homeopathy could help with autism. The answer is an emphatic yes! Amy Lansky, PhD, the author of Impossible Cure, pictured above, tells the whole story of how her son was cured of autism by homeopathy. Read it in scribd.com. (Go here to learn about scribd.com.)
Amy is an academic so if you are all into credentials and research, you will appreciate her background. She was a computer scientist and researcher for NASA. Her website is here. It is chock full of treasures: curing autism stories, referrals to practitioners, and recommended treatments, plus Amy's blog.
Amy's son Max got autism from a conventional vaccine as a toddler. He rarely talked. He exhibited many self-soothing behaviors and seemed "spaced out" in his preschool, hardly connecting with the teachers and other children, with no eye contact. Homeopathy cured the autism and today he is a fully-functioning, working adult with a degree in film from USC.
This book is fascinating! Not only do you learn about the Lansky family's experience with autism and homeopathy, but you get a great primer on HP. The book has stories of HP curing all sorts of things besides autism, including Alzheimer's and a cute little dog who overdosed on a box of chocolates. Amazing!
Here are podcasts featuring Amy:
This one is an excerpt from her book above, from the Naturally Recovering from Autism with Karen Thomas podcast.
This one is an interview with Amy and her husband Charles.
This is such great news! Spread the word!