The past week of Thanksgiving Day buzz and after-days relaxation slightly distracted me from my series of #GiveThanks posts. So I'm getting back to it, so I can finish the prophet President Russell M. Nelson's invitation. Today is my #GiveThanks post #7. I am formally giving thanks to God for His Only Begotten Son, my Savior Jesus Christ. I am always thankful for Him, of course. Today I am giving thanks for Him for the crowning touch of my seven days of #GiveThanks. I am just so grateful for Jesus Christ, especially as we enter the Christmas season. Without Him, I would not have anything else to give thanks for on Thanksgiving, or any other day.
We had a lovely time on Thanksgiving Day. Blessedly, my mother-in-law got to come. It was so nice for her to get out after recovering from you-know-what. She had been isolated for months before she got it, during her time with it, and afterwards, since she is a widow living in a retirement center. She got to have two Thanksgiving dinners, one at her daughter's on Tuesday night and then one here on the Day. My husband was in a particular jocular mood. He cracked a lot of jokes during dinner and after. She can't remember the last time she laughed so hard.
Just like last year, I assigned people to make something. My husband made the gravy. I did the turkey. 16 year old son and 11 year old son did the potatoes, Pioneer Woman style with lots of fat. The 14 year old daughter did the cranberry sauce, also using the Pioneer Woman's recipe. I'm not a fan of sweet potatoes turned into candy with marshmallows and sugar, so I simply steamed some after cutting them up. After dinner and cleaning up, some of my kiddos and I connected with some relatives on my side over Zoom. We chatted for a while. This was the first time that my parents ate Thanksgiving Dinner alone, in their 50+ years of marriage, because of the pandemic. Every year until now they have had either relatives and/or kids with them.
I definitely wanted to connect with them so they wouldn't feel so alone. After we chatted, one of the cousins in Maine and some of us living here played Code Names online. That was fun. Then those of us here in person played the Game of Things. That was a lot of fun too. I highly recommend this game. It's perfect for when you don't want to think too hard, but you want to connect and get to know each other better, without being too silly. I love this game!
Anyway, it's so Providential that in the past few weeks using the Book of Mormon Study Guide of Come, Follow Me, that we've been reading about the Jaredites being led across the "great deep," the ocean. Whenever I read that, I think of the Thanksgiving Day Pilgrims. They too crossed an ocean, to come to their promised land. They were not seafaring people normally so that ocean must have been mighty mysterious and treacherous. Why were they so willing to cross it? Because of their faith in Jesus Christ, and their desire to practice that faith in their own way.
I am so thankful for my Savior Jesus Christ. I never really understood the need for him until I was an adult.
Becoming a wife and mother has brought me face to face with all my failures and imperfections. I'm so grateful for second, third, fourth, and many more chances. That only comes because Jesus Christ paid the price for those chances. It is His enabling grace that gives me strength to keep going with a full brightness of hope.
I love that last month of November, I got to talk and hear a lot about faith in Jesus Christ. We talked about faith both in our homeschool group, in all the children's classes, ages 4 all the way up to age 17. We also talked a lot about faith at home with our Come, Follow Me Study of the Book of Mormon. In our homeschool group we kicked off the month of November in our moms' class by sharing stories of faith. One mom told this incredible story that makes me feel the Holy Spirit everytime I think about it.
She said that awhile ago, her family had their car stolen right from their driveway. How horrible! I can't even imagination how devastating that would feel. Her husband had left the key in its ignition and ran inside to do one last thing before he drove off. In that brief time, a thief came and stole it. Instead of panicking about their stolen car, and how they would pay to replace it, they exercised faith in Jesus Christ. First off, they didn't talk negatively about the thief. They prayed to God and asked God to bless the thief. They decided he must have been feeling desperate if he chose to steal a car from someone's driveway. He needed help. Then they decided to pray and ask for help in finding the car. After they prayed, they decided to start driving in their other car to go look for it. The mom said she felt the Holy Spirit guiding her to turn at a certain intersection and then go to Walmart. So they did. They entered the parking lot. Her husband decided to click on the remaining remote key fob to see if they could hear a beep. They kept driving around and beeping and guess what? They found the car! So they called the police and waited. The police came and apprehended the crook as he came to get in the car. He was only inside Walmart for 15 minutes. Isn't that amazing? God directed them to the exact spot where their stolen car was, out of all the places it could have been on this planet, within the 15 minute window that was needed to find the crook. This story gives me chills every time I think about. They prayed in the name of Jesus Christ, our advocate, and got an answer through the Holy Spirit, the partner of Jesus which He gave to us when He left the earth, so we could have His comfort and guidance. That Spirit guided them to get their stolen car back. It was a miracle! Yes, Jesus is a god of miracles! If Jesus can speak to my friend through the Holy Spirit on where to go to find her stolen car, He can help me with any of my problems and any of yours too!
Mormon 9:11 of the Book of Mormon: Another Testament of Jesus Christ says that Jesus Christ is a God of miracles.
"But behold, I will show unto you a God of miracles, even the God of Abraham, and the God of Isaac, and the God of Jacob; and it is that same God who created the heavens and the earth, and all things that in them are."
Amen! I am so thankful that the god I worship, Jesus Christ, is a God of miracles. To add to those stories from my homeschool group shared by my mom friends, I loved reviewing the stories of faith from the Pilgrims. the Pilgrims experienced a few miracles as they voyaged. Number one was that when they had trouble with a broken main beam, they happened to have the right piece of equipment to fix it, a jackscrew. Another miracle was when John Howland fell overboard. He was able to get back in the ship.
This is how God rescued him, in the words of Governor William Bradford, an eyewitness:
"And one of them John Howland came above and, with a roll of the ship, he
was thrown into the sea; but it pleased God that he caught hold of a rope that was trailing in the water and held on though he was several fathoms under water till he was hauled up by the same rope to the brim of the water, and then with a boat-hook and other means got him into the ship again and his life was saved; and though he was something ill with it, yet he lived many years after, and became a profitable member both in church and commonwealth."
As President M. Russell Ballard says in the video here, the above event was a miracle. It was God's hand who somehow placed that rope in the water so John Howland could reach it and be pulled out of the dangerous ocean. God provided for this so that John could survive and live to be an ancestor in the New World of Joseph Smith, the prophet of the restoration of the gospel of Jesus Christ.
President Ballard goes on to say in that video, "About four years after they arrived in the New World, John married fellow Mayflower passenger Elizabeth Tilley, a brave and committed daughter of God. They eventually had 10 children and nearly 90 grandchildren. But that is not where the story ends. Today, an estimated 2 million Americans trace their roots to John and Elizabeth. Their descendants include three U.S. presidents—Franklin D. Roosevelt, George H.W. Bush, and George W. Bush; American poets Ralph Waldo Emerson and Henry Wadsworth Longfellow; and two influential 19th-century American religious leaders—the prophet Joseph and his brother Hyrum Smith. Think about it for a moment—the existence of these political leaders, poets, and prophets hinged on this one young man finding and grabbing a rope in the ocean and holding on tight to be saved. It was a miracle!"
Yes it was! I'm also a descendant of John Howland so I too am grateful he was preserved. I'm not a fan of FDR nor the Bushes but I'm grateful for this insight and President Ballard's injunction to look for the Lord's hand in each of our own lives from that talk. I am thankful for the miracles in my own life that Jesus has perfectly orchestrated. Here are some of them:
He gave me the tender mercy of being able to birth my last three babies each on a Sunday. I really wanted that to happen, for various reasons, and it did, three times in a row, after asking for it. You can't tell me that that was random.
He sent angels to protect my two children, when they were both teens, to be safe and uninjured when my daughter accidentally collided with a public transportation bus while driving. This was a blessing in disguise as it allowed our car to be totaled, and we got a lot of insurance money for that totaled car. So blessedly, this money was enough to pay off the debt we owed on it, with money left over to buy a used car for cash. The previous spring I had listened to Dave Ramsey's audiobook, The Total Money Makeover. In that book, Dave rants on about why having a car payment is so stupid. I started yearning for a way to get out of our car payment on our minivan. It felt overwhelmingly impossible as we had great money trouble at the time. There was no way to find extra income in the budget to pay off the debt. Little did I know that He would provide a way six months later. Ever since then we haven't had a car payment. It's been so wonderful!
He and Heavenly Father knew that I desired a beautiful portrait of Him to hang on my wall in my living room. They gifted it to me in the form of a friend. I couldn't afford it. Jesus inspired a friend, through the Holy Spirit, to give me the very portrait off her wall to me. It was a Greg Olsen print of the Savior. It now hangs in my home, a loving reminder of the Savior's omniscience and power to inspire and my friend's loving willingness to respond to the Spirit. See the photo at the top of this post. It's so beautiful!
He inspired, through the Holy Spirit, that same friend to have a yard "giveaway" instead of a yard sale. Insightfully and so generously, she invited a handful of friends to come to her giveaway an hour earlier so that her friends could have our pick of what household items she was giving away, before the general public showed up. I was able to get many items that our family was in need of, when we didn't have money to spare. Things like blankets, towels, and dishes to replace what had worn out after many years of marriage with lots of kiddos. Amazingly, He knew that something that wasn't a necessity of mine was broken and it would delight me to get a new one to replace it. A year or so before this incident, one of my children had broken my cake decorator set, a wedding gift, by attempting to put peanut butter in it! Ugh! God knew I would like a new one. I love to use it to decorate my pies. I hadn't told anyone about this, but God knew. I was able to get a like new one to replace it, this Pampered Chef one pictured below, because my friend gave it to me at her yard giveaway. This was no coincidence.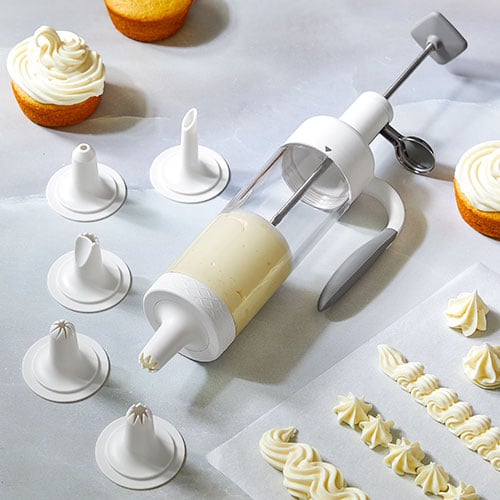 He inspired, again through the Holy Spirit, a man who shared office space with my husband, to say something to my husband. That something was the same thing that I had been saying to my husband for over a year. I needed a second witness and this man provided it. That something was a suggestion for my husband to apply out of state for a job, specifically in AZ, during our money troubles. My husband needed to hear it from someone else. You probably have experienced this too. I too have been in the same boat. My husband will tell me a truth, but I have to hear it from someone else to take it seriously. Anyway, that second witness of looking for a job in AZ prompted our move to AZ five years ago. In fact, I am publishing this post the day after the date, December 2, which marks our five year anniversary of moving to AZ. We have since moved back to Utah. Each move deserves its own separate blog post of inspired events orchestrated by Jesus. Those are for another day! Suffice it to say He was behind both moves.
He spoke through the Holy Spirit to my then 16 year old son to ask his siblings, if everyone had their seat belts on. I was the driver of the car with my four youngest as passengers. It was around 9 PM on a drive to Utah, as we wended our way through Las Vegas. That question saved my other son's life. He did not have his belt on at the moment but then put it on because of his brother's prompting. Five minutes later I collided head on with another car, going at least 45 mph. I am certain if my then 13 year old had not had his seat belt on, he would have gone sailing through the windshield and been seriously injured or killed. I am so grateful for this prompting of the Spirit. God still has work for this son to do.
He has inspired people through the Holy Spirit to offer to help us move a few times. In particular I had three friends who spent hours helping me dejunk, pack, and clean during the last move. I thank God for such amazing generous friends. When we moved to AZ we had amazing family and friends who helped us move as well.
He has been my refuge and my comfort during my troubled times. I have prayed in His name to my Heavenly Father and felt tremendous peace. Especially during this past year with the pandemic and my husband's job loss a year ago, on Thanksgiving Eve.
He spoke to me through the Holy Spirit to guide us where to live when we moved when my husband got a new job in Utah. That guidance ultimately landed me in a place where I could meet The Candy Bomber, which is a dream come true.
He surprised me with blessings of two unspoken desires. I had not told these desires to anyone, not even my husband. Years ago, actually decades, LOL, when I was in college, I thought it would be wonderful to live in a certain neighborhood. Now, 30 years later, I am blessed to live in that very neighborhood. Another unspoken desire I had developed over the past 15 years was to have a light, bright, white kitchen. I have always lived in kitchens with dark cupboards. This last move, I was delighted to finally be blessed with a light kitchen with only white cupboards, countertops, and floor. I can only chalk this up to the miraculous intervention of God the Father and His Son, Jesus Christ.
As Moroni says in Ether 12:38, copied below, I advise you to seek this Jesus. He is a God of miracles. Praise His name! Let Him show up in your life. Pray to the Father in His name, asking Him to be your advocate for your specific desires.
"I would commend you to seek this Jesus of whom the prophets and apostles have written, that the grace of God the Father, and also the Lord Jesus Christ, and the Holy Ghost, which beareth record of them, may be and abide in you forever. Amen."
May you be surprised and delighted by the miracles of Jesus in your own life!