I can't let the ultimate patriotic holiday pass by without mentioning my favorite picture books for it. No need to buy these, just log in to your local public library's online catalog and put them on hold! Your library probably has most of them. Then snuggle in with your favorite small person, or with a cat or dog, and learn about our nation's history during the month of July. The small person or animal is optional. Picture books aren't just for children. I adore them and hope you catch my passion for them! You can learn so much from them, especially if you are a visual learner like I am. The pictures make the words more memorable. I wish I had learned history this way as a child. May we learn our history so we don't repeat the mistakes and preserve the best parts and build on them. May we also have some quiet time to ponder about what liberty is amidst all the loud, busy, flashy parts of Independence Day.
The above book is unlike any I've ever seen. It's the story of the Liberty Bell. Did you know that people hid it from the British soldiers who invaded Philadelphia during the Revolutionary War? Many people believe it was John Jacob Mickley and his son John Jacob Jr. who hauled it away in their wagon, covering it with dirt, manure, straw and hay. They didn't want it captured and turned into enemy ammo as recycled metal. They eventually hid it under the floorboards of the Zion Reformed Church. You will learn from the historical note at the very end that after the British evacuated the city, people restored it to the State House of Philadelphia, now known as Independence Hall. It didn't crack until July 8, 1835. I got to see the real thing two years ago on my "National Covenant Treasure Tour" and see it preserved in the building across the street from Independence Hall.
This one tells the story of the history of the actual original copy of the Declaration of Independence. Perhaps after watching National Treasure you've wondered, has it always been encased in a glass display at the National Archives? You'll learn that it has traveled by train, boat, horse, railroad, and mail truck to its home in the National Archives from reading this delightful picture book.
I got to hear Jean Fritz, the author of this book and a bunch of other books on this post, speak at BYU years ago. It was for a conference involving authors and illustrators of children's books. I also read her autobiography with my mom and have a soft spot in my heart for her. I just love that she attempted to make history come alive for children. These books aren't for little kids, more for ages 10 and up. If you read them to under that age then I highly suggest paraphrasing.
I just love this book because of the truth of the story: sometimes best friends can became enemies. Dr. Benjamin Rush, a mutual friend of Jefferson and Adams, was the one to get them to reconcile. It makes me wonder about friendship, the clashing of strong personalities (especially in the homeschool world) and who I can help to become friends again.
The book above retells an actual story by Ben Franklin, which he told to Thomas Jefferson. It's so appropriate to Independence Day because it involves the actual writing of the Declaration of Independence. People were arguing over its wording which stressed out Jefferson. So Franklin told him this story, which Candace Fleming has retold for all of our benefit.
We can't forget the ladies involved in the Revolutionary War. First off, there's Phyllis Wheatley, a black slave woman who wrote poetry during the War. She set a tremendous example of someone who determined to learn and make a new name for herself, after having everything taken from her, her former name, her home and her family. She published a book of poetry, thus becoming the first American black poet. Amazing! She's definitely a hero in my book!
Then we have the story of Abigail Adams, another one of my female heroes of all times. I love Laura Linney's portrayal of her in the HBO miniseries about John Adams.
Then these two books below give the little-known story of Anna Strong, a spy involved in Washington's Culper Spy Ring.
Learn more about women and the Revolutionary War in this book below.
Of course we have to include Betsy Ross!
Henry Knox was an amazing guy. Would Washington had won the Battle of Dorchester Heights without the use of the cannons that Knox captured from Fort Ticonderoga? Read the story in the books above and below to learn more.
If you want one book that captures the story of the history behind Independence Day, the one above is it.
The books above and below helps George Washington become relatable to kiddos.
I just love the story of Washington's friendship with Lafayette, who was like a son to George.
This one's about Eliza Hamilton, the wife of Alexander. Did you know she started an orphanage?
The above is historical fiction of how a young girl helped as a spy during the War. You can read the basic story here. Perhaps a girl really did help as outlined in this story, using a clothesline?
More Jean Fritz! Like I wrote earlier, these are for older children and adults. Ms. Fritz has a subtle humor that comes through in these books.
It's important to know that the Constitution set forth the rules of the government of the nation that beat the British. The book above by Ms. Fritz and the one below explain the history behind it.
The next three books, below, are simple patriotic books for younger children.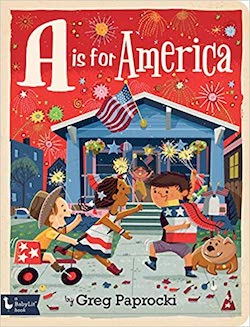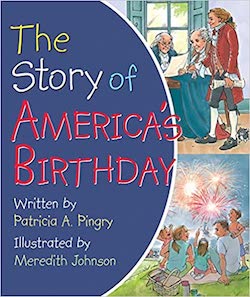 This one follows the theme of "The night before Christmas," with the excitement of preparations for a big holiday. It is wonderful to think of Independence Day as a true holy day, like Christmas.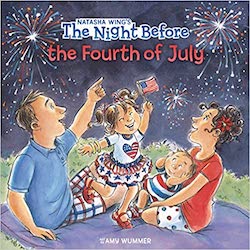 This book puts the words of the Declaration of Independence into a picture book. A great help to memorizing the famous, important document.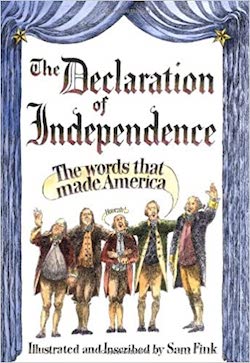 This book below captures the Spirit of '76 in poetry form.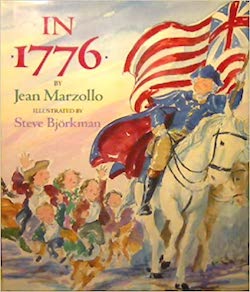 Last but not least, I have a bunch of Cheryl Harness books. I just love, love her beautiful watercolor illustrations outlined in pen. They are a treat to pore over, especially the maps! Ahhh! These books are like Jean Fritz's in that they are more for older children and adults. If I were to read these ones aloud to younger than 8s, like to my grandson, I would just maybe read one sentence per page and ask questions of what to point to. So many details to enjoy!
Happy Independence Day!
More for you to enjoy:
-an Independence Day ceremony
-a quiz on the Founding Fathers
-a presentation on the covenantal nation of America
–videos for Independence Day